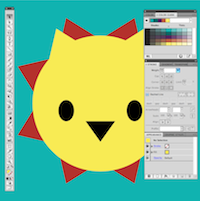 Ingmar is much slower than Karsten, but he's much older as well. He is Karsten's uncle and likes drawing.
But he finds this quite difficult. Drawing a nice Brikki can take hours. The simpler the drawing should be, the more difficult it becomes.

And Karsten is always ready for more. "Brikki should go to the doctor, he's checking his stomach... Brikki wants to eat chocolate..."